The environmental monitoring ship MS Miljødronningen was at Fedje on 10 April 2019 to check the condition of the German submarine U-864, which is located at a depth of 150 meters 2 nautical miles west of Fedje.
The Swedish Environmental Protection Agency has been working on the mercury case and raising the submarine since it was found in 2003. Now the Russian media has become interested in the pollution case. A collapse of a layer of rock and sand over the hull parts led to the collapse, and an ignition of TNT in the torpedoes.
This can lead to a rapid and acute spread of the mercury, which will spread northwards and reach the Barents Sea within 14 days. This is not just a local issue for Western Norway, but a global source of pollution, says Kurt Oddekalv, leader of the Environmental Protection Association. With the help of an ROV and video recording, footage was taken of the support fill that is laid below the front part of U-864, in addition to the two large parts of the submarine. Both of the large hull parts are lightly rusted. There are no signs of rust anywhere, and even the wooden deck is almost intact.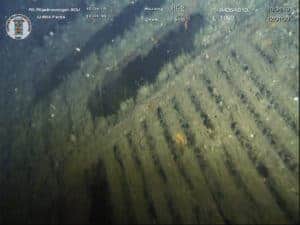 The hull parts are somewhat fouled, which means that there has been less rusting on the metal underneath. The Environmental Protection Association was followed by a Russian TV from "Russland 24", where they covered the U-864 case in addition to the problems with salmon farming in Norway. In late autumn 2018, the Swedish Environmental Protection Agency participated in a press conference in Moscow regarding the pollution dangers from the mercury stored in the submarine's keel.
We see this as two compact landfills of mercury, which can now be taken care of and removed from the marine environment. We see no reason to cover this up, but we can certainly and safely take the two hull parts with the mercury stored in the cargo keel up using new technology. The Norwegian Coastal Agency has constantly run scare propaganda that there will be a spread of contaminated seabed in the event of a rise. The fact is that there is no leakage from the cargo keel in the two hull sections which have not rusted since 1945.
Russian media: "Secret of the Norwegian Sea"
https://www.youtube.com/watch?v=ddkH9fzoDGU&feature=youtu.be