TrønderEnergi's CEO, Ståle Gjersvold, made several inappropriate comments on a private Facebook page today, 7 March 2020.
Gjersvold's inappropriate comments came in response to completely factual comments about the UN's ranking of species diversity vs climate, and the environmental consequences of Trønderenergi's development on Frøya vs smølalirypa.
Gross allegations against employees of the Norwegian Environmental Protection Association (NMF)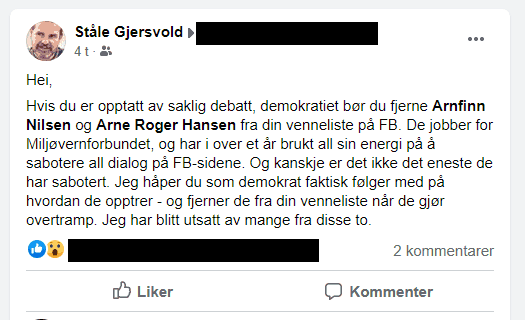 He posted this clear message on a private FB page after he had made accusations that NMF employees Arne Roger Hansen and Arnfinn Nilsen "...has contributed to criminal activity".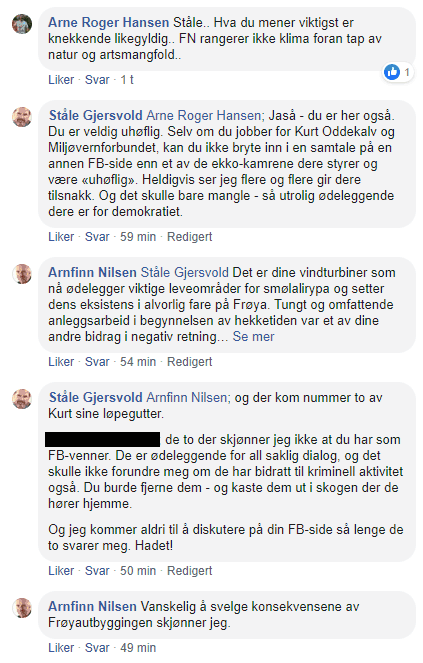 It is quite incredible that Trønderenergi's executive director can condescend to such unsubstantiated and undocumented claims about criminal activity in response to a comment about Trønderenergi's environmental consequences in relation to the smolalius grouse on Frøya.
Here is the text that made Gjersvold see red...
"Arnfinn Nilsen Ståle Gjersvold It is your wind turbines that are now destroying important habitats for the ruffed grouse and putting its existence in serious danger on Frøya. Heavy and extensive construction work at the beginning of the breeding season was one of your other negative contributions. The Smølalirypa, a genetic subspecies of the lily grouse, is our only endemic bird species that is only found on the islands of Smøla, Hitra and Frøya in the whole world. It is genetically adapted to a milder climate with less snowy winters, as it retains much of its dark plumage throughout the winter. Should we really get milder winters, the lirypa will be very exposed to predators as it has completely white plumage and can no longer hide in the vegetation. A change in climate can thus threaten the entire Scandinavian lyre population, while the small genetically adapted population that has the characteristics that the entire Scandinavian lyre population needs, yes, it is sacrificed for a few extra kroner to Trønderenergi and Stadtwerke München.

Increasing mortality by deploying giant bird grinders and destroying key habitats of a genetically important and highly vulnerable climate-adapted species is responsible, yes it is Mr. Gjersvold's contribution in good company with his colleagues at Smøla and Hitra.
It will be like pulling the plug on Noah's Ark, before it gets to land.
Thumbs up for it, Ståle… ????"
Nothing more was needed. As CEO, he is responsible for the choices and dispositions the company he leads takes. The environmental consequences that were pointed out follow from these choices. He has to bear hearing that his developments have such dramatic consequences for natural diversity, white-tailed sea eagles, northern grebes, gray grouse and more. He has made his choices on behalf of the company he leads. To respond to factual comments with such inaccuracies is to reduce the level of debate to an absolute low.
Read more about Smølalirypa vs wind power in The Norwegian Environmental Protection Association's report.
For a long time, Trønderenergi has used threats and vilification of opponents as a media strategy
At Trønderenergi's development areas on Sørmarkfjellet and Frøya, they have not only used brute force against the municipality and protesters, but they have also been active in the media with several clear accusations of threats and sabotage from demonstrators and the local population. Especially after executive director communications and social responsibility, Stig Tore Laugen was hired, this has become a clear media strategy.
In April 2019 came Trønderenergi's threat to the municipal council regarding a future compensation claim of 400 million prior to the matter being taken up in the municipal council.
On 23 July, Frøya.no was able to report a claim to Frøya municipality from Trønderenergi for 693,000 to cover the costs of legal assistance.
Trønderenergi requires 693,000 from Frøya
Rough run and rough ride from a reckless company…
"-Trønderenergi puts local democracy in a hostage situation! That's what county politician Tommy Reinås from De Grønne says. He thinks the company behaves disrespectfully when they threaten the politicians on Frøya. "
"-Appalling abuse of power by the police and Trønderenergi"
"Solfrid Glørstad Sandvik is reported to be posted in Hitra-Frøya. Here the opponents of wind power are once again accused of illegalities, without anyone knowing what actually happened, says Sandvik. "
-Creates fronts by claiming untrue things
TrønderEnergi itself is responsible for vandalism and destruction
At the beginning of June 2019, employees at TrønderEnergi's construction site set about and destroyed material, such as posters, pictures etc. belonging to the opponents at their camp area in Nessadalen on Frøya. The Norwegian Environmental Protection Association's banner was torn to pieces and Norwegian flags were thrown into a heap on the ground like rubbish...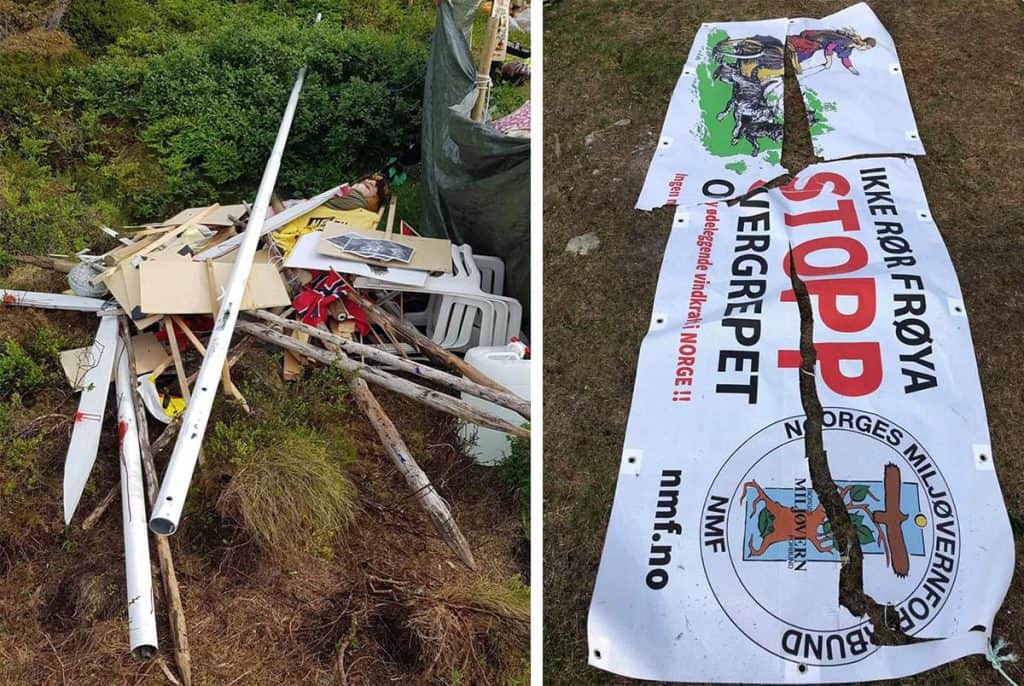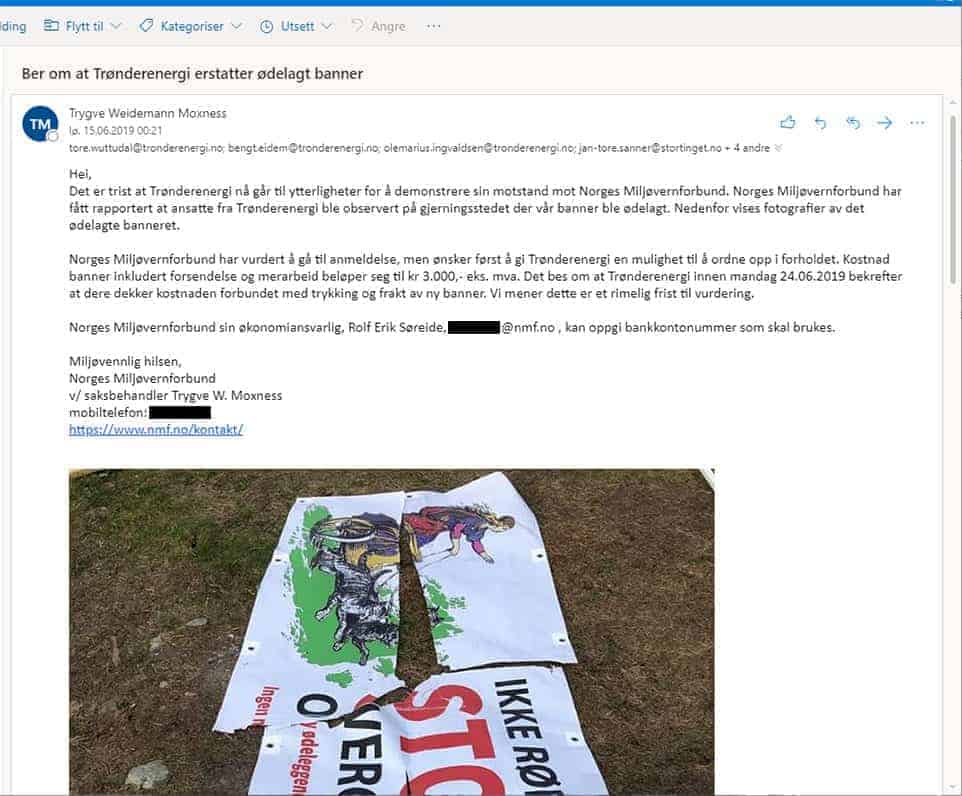 The Environmental Protection Association sent a letter with a demand to cover the costs of printing a new banner. The compensation claim was reasonable (cost price) and a handshake in the hope that Trønderenergi was willing to make up for itself. However, they did not want to, and flatly rejected NMF's claim for compensation.
The municipal council politicians in Frøya did not get off the bus when they were going to inspect the construction site
"- There have been substitute arguments for why we could not leave the bus. We don't buy the arguments. We feel that we are being made fun of, says Steven Crozier, in Rødt Frøya.
He and his party colleague Astri Reppe chose to jump off the bus right outside the barricades at the entrance to the wind power area in Nessadalen on Thursday.
Wearing yellow "No to wind power plants on Frøya" shirts, they lined up with other wind power opponents to show their opposition to the development taking place on Frøya.
- Trønderenergi wants to communicate with us through the inspection, but everything happens on their terms. We are directed. We would not participate in that, says Crozier.
The board of Frøya Rødt has reacted strongly on the information they received ahead of the inspection in the construction area of Frøya wind farm on Thursday.
They experienced the police's involvement in the inspection as an attempt at monitoring and control on behalf of the developer.
Both the police, the mayor and Frøya municipality had to go out and correct the information, due to misunderstandings and inaccurate information.
Frøya Rødt was nevertheless not satisfied with the conditions set by the police before the inspection. The municipal council was granted a dispensation to break the residence ban, but was not allowed to leave the bus.
- The first reason was that Trønderenergi did not have safety equipment for everyone. We managed to get that ourselves last Thursday. We were then informed of an active investigation in the area. It burned six days ago, says Crozier, before pointing out:
- While there is an active investigation, there are 60 workers working full time in the area.
- It is a large area of six square kilometres, a crime scene where a fire should not have been an obstacle, says Crozier.
Got off the bus: -Feels like we're being made fun of
In light of today's comments from the CEO, he can hardly have read the company's own rules on ethics and social responsibility...
TrønderEnergi's Rules on Ethics and Social Responsibility
TrønderEnergi's page on Social Responsibility
It is interesting to see how TrønderEnergi and their well-paid directors manage to portray themselves, time after time, as victims. At the same time, it is also surprising how they themselves, as the professional party, manage to lower the level of debate to new lows. You will not believe it until you see it….
Here are the full posts…
TrønderEnergi, the board and the owners...
Here is TrønderEnergi on Facebook
TrønderEnergi's owner municipalities