Miljømagasinet 1-2019 Wind power is now available for download.
This theme issue on wind power covers several aspects of wind power development in Norway. It has for some time now been available in printed form, and has now also been made available for download.
Green certificates and the environmental movement
Environmental campaign is useful
Climate accounting for wind power
Noise and low-frequency infrasound
Alternative energy sources
Norwegian energy policy and the relationship with Europe
Wind power propaganda
Norwegian administration's failed policy and unfortunate connections
The democracy that disappeared
The environment's poor legal protection
Smølaliripa
National framework for wind power
The magazine has 68 pages packed with up-to-date information on wind power, problems with management and adverse environmental consequences.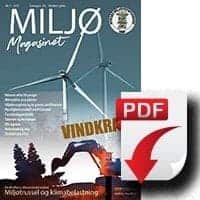 Download the magazine (PDF).
See also several issues of The environmental magazine here.