The coastline outside Karmøy is blanketed by sea breezes. The latest consultation on the expansion of a wind power plant just outside the spring stones lacks legal authority.
Support the signature campaign against the expansion of the offshore wind farm outside Karmøy. The link to the campaign can be found below. Sign and share.
The baseline is the boundary between the Ocean Energy Act and the Energy Act/Plan and Building Act is a thin line that in several places goes right outside the jetties, and in some places right up to dry land. Within this line, the normal laws and regulations apply. Right outside, the almighty Ocean Energy Act applies.
The great opposition to onshore wind power has largely been the result of the people finding out what our authorities are really up to. One of the things that has been one of the biggest points of irritation has been the great injustice in how the legislation has been applied. While the authorities have had a very square approach of regulations towards ordinary citizens, the energy companies have had almost free access to the community's values under the strict protection of the civil service. The advantage is ALWAYS greater than the disadvantage, and no law stands in the way.
In 2011, Marin Energi Testsenter AS (METCenter) applied for a license under the Ocean Energy Act to set up two test turbines just outside the jetties on Karmøy. Despite a number of complaints, the OED approved a license with a duration of 20 years on 10/09/2013.
«Tillatelsen gjelder fra i dag og inntil 20 år fra det tidspunkt anlegget settes i drift, dog ikke utover
01.10.2038. Anlegget må være fullført og satt i drift innen 5 år fra endelig konsesjon.»
The two test turbines should have been commissioned by 01/10/2018, which the developer is unable to do, so they are applying for a postponed deadline for commissioning and an extended period of operation. NVE was so eager to secure the developer's wishes that on 05/03/2018 they granted an extension without making the application public or putting the application out for consultation.
On the basis of the above, Marin Energi Testsenter AS applies in a letter of 20 February 2018 for a postponed deadline for commissioning the facilities to 01 October 2022, and an extended duration of the concession to 01 October 2042.

On the above-mentioned background, NVE has found it unthinkable not to hear the application.

In accordance with § 3-1 of the Energy Act, Norway's Directorate of Waterways and Energy (NVE) hereby grants Marin Energi Testsenter AS a postponed deadline for the commissioning of floating offshore wind power in Karmøy municipality until 01.10.2022, and extended the duration of the concession until 01.10.2042.
Postponed deadline, extended operating period, no publicity or consultation...
Now in 2021, METCenter wants to increase the facility from a 10 MW test center with two turbines to a full production facility with 85 MW power and seven turbines, or correction... No one knows for sure what will come...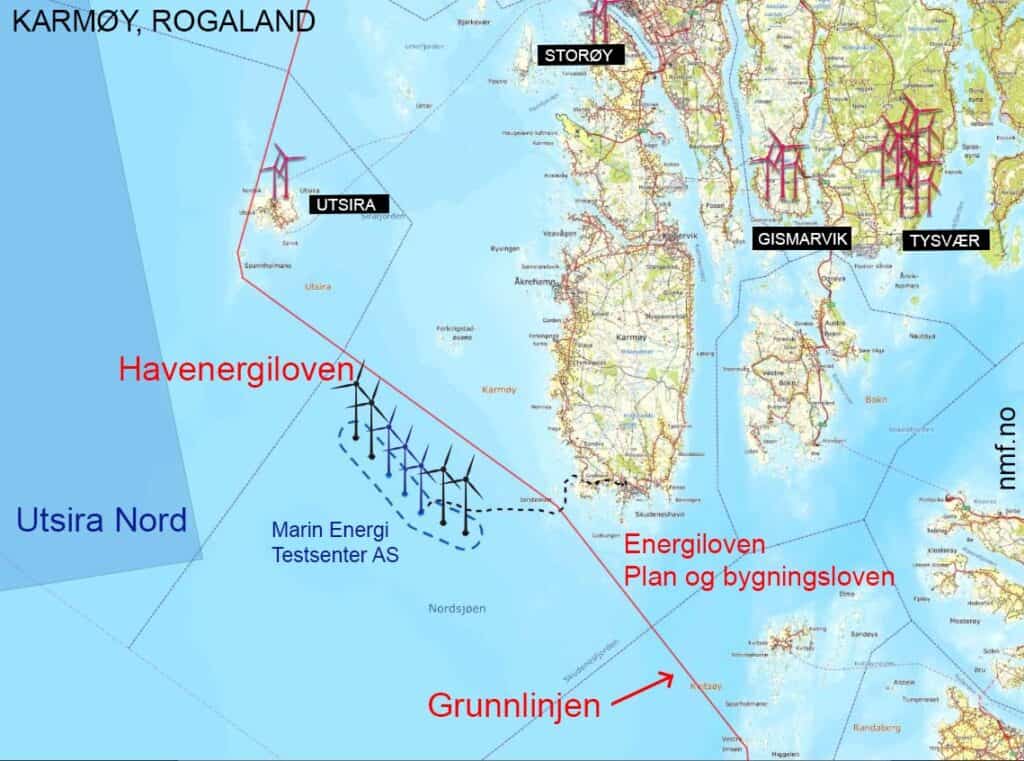 Support the signature campaign against the expansion of the offshore wind farm outside Karmøy. The link to the campaign can be found below. Sign and share.
Her blir alt uklart. METCenter oppgir i søknaden at dette er inntil syv «testplasser».
It is also not specified which future technologies, including dimensions, will be deployed at these "test sites" within the framework of the concession period. The initiative holder himself states in his application of 02.06.2021:
Wind turbines on floating foundations with associated anchor chains/lines and anchors, but also other technologies for the production and storage of energy (for example wave power, liquid solar power and hydrogen). In other words, it is desirable to have great flexibility in relation to type of technology that can be tested.
Unknown technology and "free-from-the-imagination-concession".
NVE's hearing is the first of two. This round of hearings will reveal "whether the requested extension has been sufficiently investigated, and what kind of additional information and which additional investigations should possibly be carried out before the licensing issue can be decided.". The only thing that is known in this license application is the maximum installed power, which is a stated increase from the licensed 10 MW for two test turbines to a maximum power of 85 MW spread over seven "test sites". It is also not specified which future technologies, including dimensions, will be deployed at these "test sites" within the framework of the concession period.
In other words, this is a pure "free-to-use-your-fantasy-concession", where the owner of the measure, given that it is granted a license according to these premises, is completely free to install whatever they want within the license period (up to 2047), and the given effect framework. It thus becomes impossible to set criteria for impact assessment for something that is completely unknown and undefined.
METCenter itself has outlined that it may be relevant to deploy wind turbines up to 300 meters high, and with a 260 meter rotor diameter. These are more than a quarter of a kilometer high installations located right outside the spring stones at Karmøy in Rogaland. Med andre ord er det utbygger søker om, en ren «fritt-etter-fantasien-konsesjon» der de helt frem til 2047 skal ha forhåndsgodkjennelse til å kunne utplassere alt de måtte ønske seg så lenge de holder seg innenfor effektgrensen på 85 MW. Til sammenligning så skal Tysvær vindkraftverk med 11 turbiner gi 47,3 MW, og Frøya vindkraftverk med 14 turbiner leverer 58,8 MW. Dette er med andre ord ikke noe lite anlegg det her søkes om, forhåndsgodkjennelse for et gigantisk «fritt-etter-fantasien-anlegg» midt i kystlinjen.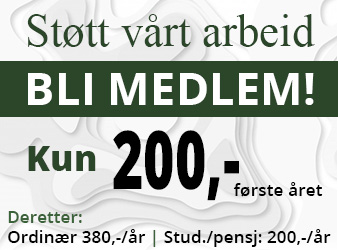 Insufficient authorization
METCenter searches, for the part outside the baseline; «Søknad om konsesjon i medhold av §3-1 and §3-2 i Havenergiloven for en utvidelse av eksisterende demonstrasjonsanlegg for flytende vindturbiner samt for etablering av den delen av nettilknytningen som ligger utenfor grunnlinjen.».
All licenses outside the baseline must be processed by the ministry. NVE claims authority to process this application on the basis of a decision in OED on 26/05/2021, which grants dispensation from Section 2-2 of the Ocean Energy Act, but NVE is only authorized to process applications according to Section 3-1, and not Section 3 -2 which the developer also depends on to build the facility. NVE is therefore not authorized to deal with this case. There is also no correspondence between what the OED says it has been told by METCenter and what METCenter itself states in the consultation statement. This is a fully-fledged production facility where all permits are granted long before the technology, size and design are known.
Sea wind everywhere, and right in the rocks...
The facility is also outside the two areas that have been opened for license applications for offshore wind, Sørlige Nordsjø II and Utsira Nord, and is therefore in addition to these. In other words, this is a way of sneaking new offshore wind plants in the back way. This is not what we expect from our authorities after this approach has caused a storm across the country. This creates absolutely no confidence in the administration.
Dette anlegget vil kunne få store konsekvenser lokalt, både på land og til havs. Å kjøre gjennom en slik «fritt-etter-fantasien-konsesjon» i en tid da det nettopp er dette som har vært en av de største årsakene til konflikt, er neppe rette veien å gå. Å snike inn nye vindkraftverk bakveien skaper bare mer konflikt, ikke mindre.
After the great opposition to onshore wind power, the government has given the impression that they will not repeat the same for offshore wind. The whole thing has now turned out to be just a trick. It's hardly us, the people they work for. When you look more closely at this matter, you also find that it is the community's money that they are now pouring over this project. One of the owners of METCenter is Karmøy municipality, which in March this year spent a total of NOK. NOK 800,000 of funds from the Aquaculture Fund for a share expansion in the company. Not only is the population robbed of our common natural areas for recreation, outdoor life and food, but it is also the population that is forced to pay for the crime through imposed taxes and fees. This is nothing less than a gigantic oversubsidized robbery.
The NMF demands in our consultation opinion that this application be rejected and withdrawn, and that all future applications must be clearly defined, specified and investigated with regard to all physical and technical characteristics FOR the application is put out for consultation. Such "free-from-the-imagination-concessions" as this cannot be accepted.
Support the signature campaign against the expansion of the offshore wind farm outside Karmøy. The link to the campaign can be found below. Sign and share.