The Norwegian Environmental Protection Association's (NMF) banner prompted owner and executive director Olav Stangeland to physically attack and beat down wind power opponents and NMF member Arvid Gimre.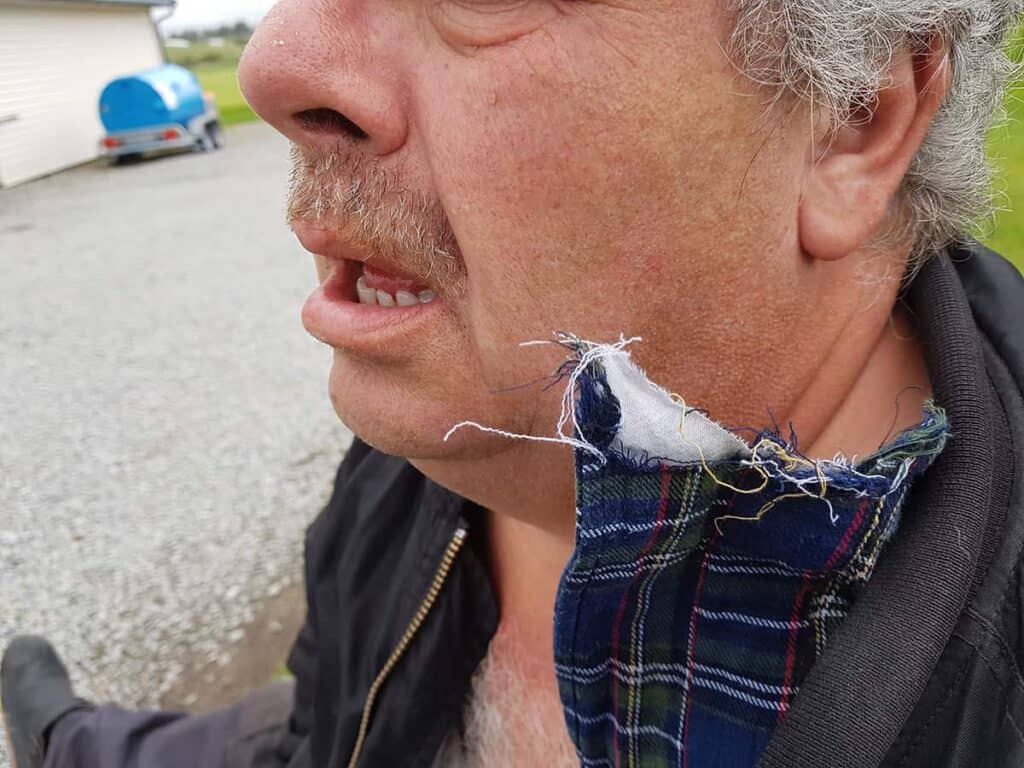 That it should be physically dangerous to show opposition to one of Norway's largest and most powerful machine contractors in the wind power case appears completely unreal in our democratic society. It all feels unreal. This is so incredible that you won't believe it until you experience being in the middle of it yourself.
Some preliminary comments
After this case was released and caught fire on social media, there have been some claims from self-appointed desktop experts that this is not real and that there is no evidence. NMF's case manager Arnfinn Nilsen was present when it happened and can confirm the sequence of events. When it comes to evidence, the police have received plenty of pictures and thorough explanations. The case is under active investigation and Gimre has been given legal assistance.
Arvid Gimre was brutally attacked and injured outside his own home. X-rays from Stavanger University Hospital show a fractured thumb and Gimre must wear a cast for four weeks.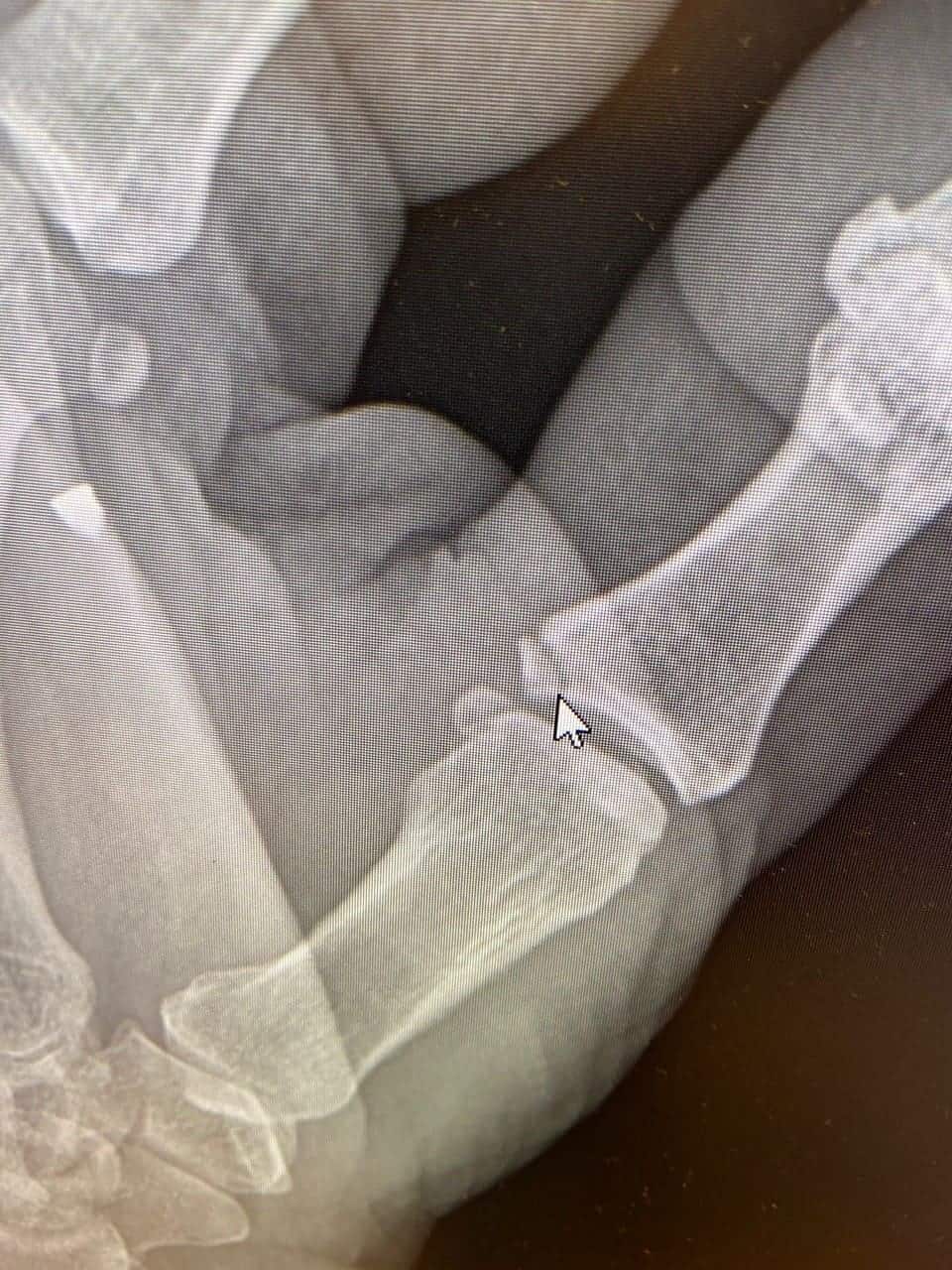 Pictures of the fracture in the thumb (more pictures - use arrow keys). - Photo: SUS
The footage…
The Norwegian Environmental Protection Association (NMF) rented wall space from Arvid Gimre to put up banners in three different places on Tjelta in Sola municipality in Rogaland. Incidentally, Gimre is also an NMF member and has been heavily involved in the wind power issue. As he says it himself, he had plenty of time to read during the corona situation and quickly discovered how wrong it is with Norwegian administration. In particular, the situation for the inhabitants of Haramsøya outside Ålesund made a strong impression. It became easy to recognize myself in my own tough experiences with the contractor who is now actively engaged in construction work on Haramsøya. Here, the inhabitants live on a small island and have giant wind turbines strung over their heads and have nowhere to be without the wind turbines hitting their bodies.
Stangeland, as one of Norway's largest machine contractors, earns a fortune by destroying the home of an entire local community. Residents have the value of their properties destroyed and find it difficult to sell if they manage to move away from the site at all. This is not correct.
The banner that made it boil over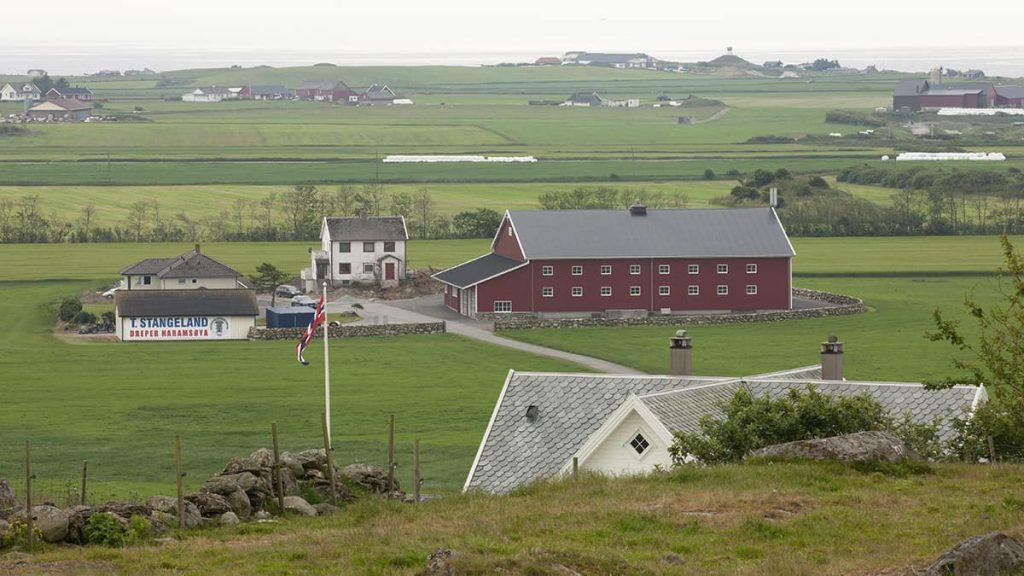 Three different banners were hung in different places on Tjelta, Sola municipality, June 2020. A general one against wind power on a lee, and two banners holding the company Stangeland responsible for the development on Haramsøya outside Ålesund. One at Gimre's garage and the other at a utility building almost four kilometers away. The Norwegian Environmental Protection Association is well satisfied with the rental of wall space as they have a good position when targeting the major abuse Stangeland is participating in as a contractor on Haramsøya.
It should also be added that Stangeland is not just a small insignificant subcontractor who only does a job. As one of Norway's largest mechanical contractors, they are very central to the development of the wind power plant on Haramsøya. Like all companies, they use their assignments actively to market the company and to build their reputation. When they actively go in and choose the most controversial and conflict-filled assignments, they also have to endure what comes with this in terms of reputation.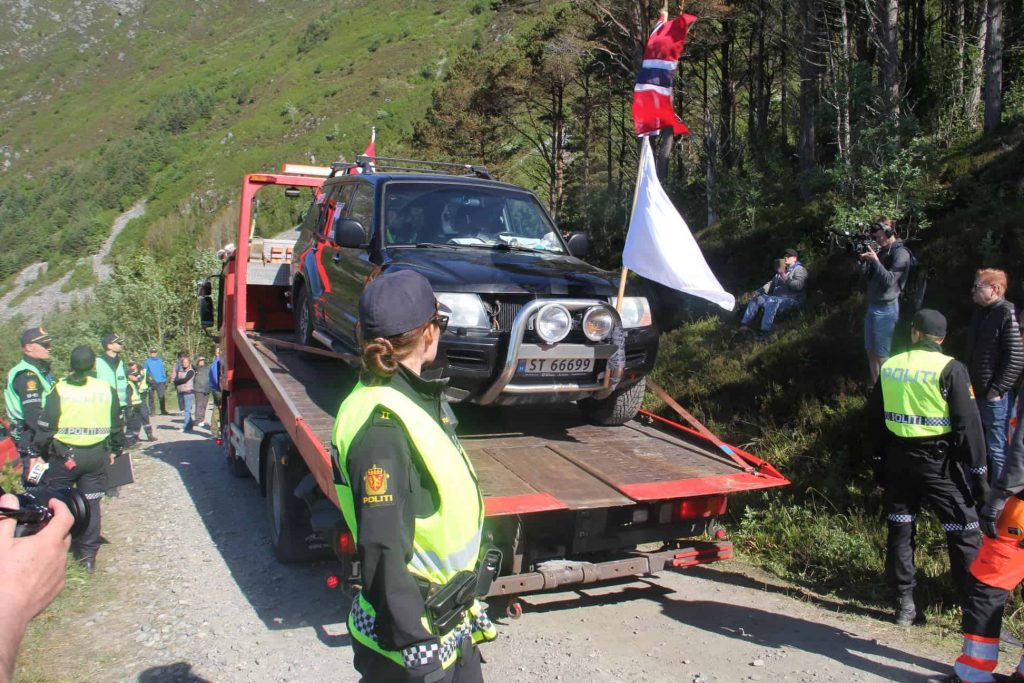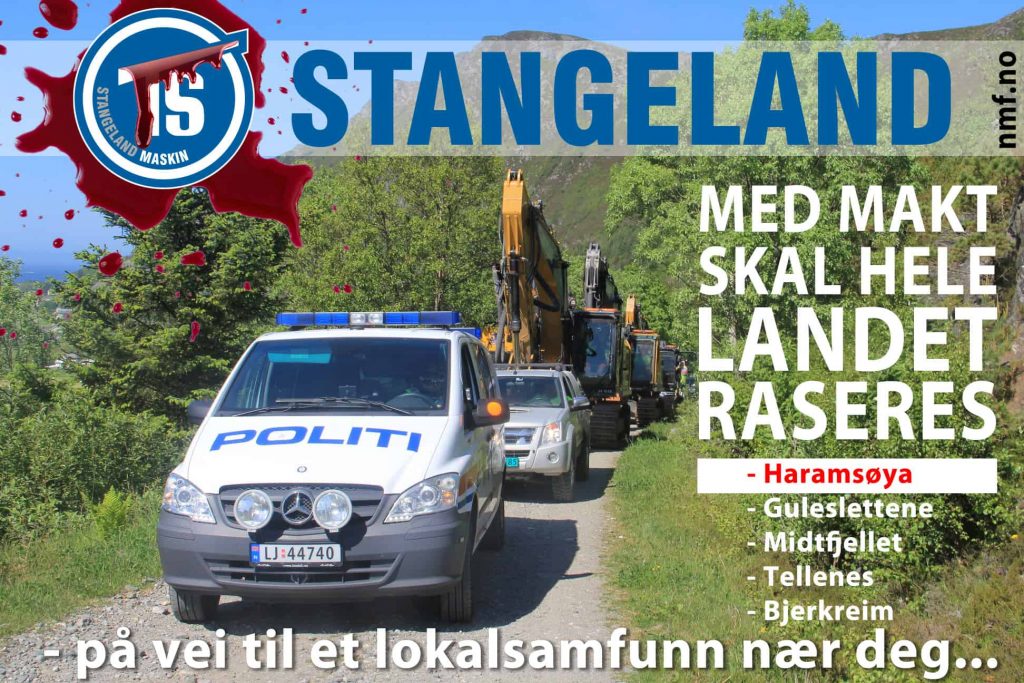 The reason why we make companies responsible for the assignments they choose to take on is when they choose to enter into highly controversial and conflict-filled missions where there are major consequences for the local population, nature and the environment. On Haramsøya, they have not chosen this, but have had it trampled over their heads despite poor and old investigation work, gross procedural errors and against the wishes and will of the local population.
What is to be built has changed significantly from what was in the original licence. Haramsøya is a very small island where there is nowhere they can get away from the giant and noisy wind turbines, and several homes come within the noise limit. In winter, there is a risk of ice flinging from the turbines that stand directly above the homes. The citizens have had this pushed over their heads without being heard.
The property value goes straight to the basement and they may not be able to sell their houses if they want to move. Loss of property at 40% is not unusual when a wind power plant is established close to homes. All companies choose which assignments they want to take on and use them actively in marketing and building their reputation. If they take such bad assignments, they must also bear the costs of their choices.
Olav Stangeland tells Stavanger Aftenblad that the banner on the garage is pure harassment.
Olav Stangeland lives in the white house in the forebrunnen and looks straight down at the neighbour's garage where large banners are hung. Pure harassment, Stangeland believes.
It is striking that there is the Environmental Protection Association's banner on the garage wall which, according to Olav Stangeland's statement, is "harassment" at the same time that he is trying to evade the company's responsibility by blaming it on a private conflict. There is much more to this story that would suggest just the opposite. All the banners are aimed at the company and the case, and not at private individuals.
At the same time, it is also striking that as the owner and executive director of the contractor who carries out the construction work, and whose business destroys the lives of an entire local community, he himself cannot bear to see a poster outside his own living room window. On Haramsøya, they have to live with giant wind turbines right outside their windows, the property value goes straight to the basement, and an entire island is destroyed with a giant noisy industrial plant. All for a few extra bucks at the bottom of the coffin. But the executive director himself is upset and cannot bear to see the company he owns and manages being held responsible for the destruction. As executive director and owner, he is not an ordinary private person but responsible for the company, its operations and reputation.
The reputation the company gets from taking on such controversial and highly conflicted assignments has been chosen by them. Especially at a time when we have had a popular uprising, large police deployments and a high level of conflict both on Sørmarkfjellet and on Frøya in Trøndelag and elsewhere. That they meet resistance on Haramsøya and elsewhere can hardly have been a surprise. They have entered into this with full knowledge and will. They must bear the responsibility and consequences themselves.
What you should also be aware of is that the Environmental Protection Association's leader Kurt Oddekalv personally called Olav Stangeland in 2019, long before the construction work started, and gave a clear message that they would be held responsible if they started on Haramsøya. Don't say they weren't warned.
The vandalism is reported
On Tuesday 28/7-2020, it was discovered that one of the banners at Tjelta had been cut into pieces and NMF was called. Soon after, NMF's representative was out documenting the damage together with Gimre.
After both had gone home, another phone call came that the one that was mounted on his garage had also been cut to pieces in the same way. It was not easy to spot until he drove onto the property.
Two banners were thus subjected to vandalism at the same time, and in the same way. On both banners, only the message has been cut away and removed, so it is clear that this has been done by someone who sympathizes with the company that has had a motive for the crime.
What is extra striking is the fact that on the same day that the banner at Gimre's garage was installed (June 2020), the Stangeland bus was placed in front so that it blocks the view of the wall. The banner is an expression, and putting a bus in front is also an expression. Totally neat, but…
What then becomes more special is that this banner, because of the bus, has not been visible from the road. It is therefore only those who know about it who have known about it. Consequently, the list of suspects becomes rather short. Two banners destroyed in a coordinated action, at the same time and in the same way. One was, to a great extent, not even visible to any passers-by. If it had been normal vandalism, they would probably have torn down the entire banners and not just the message they didn't like, but here they clearly didn't have the heart to use the knife on the company logo. One doesn't exactly need to be Inspector Clouseau to see a connection here.
The Norwegian Environmental Protection Association reported the relationship on 28/7-2020. Read the review here (PDF).
The next phase is being implemented
The day after the vandalism on the banners was discovered and reported, two 40-foot containers were hoisted on top of each other in Gimre's car park. Now it was not as easy to place a small bus in front. While the crane truck lifts the top container into place, a car with a person connected to Olav Stangeland arrives and stands up to observe what is happening. The car stays there for about 10-15 minutes before it leaves and drives up to Olav.

The attack
When the banner was ready to be installed, Arnfinn Nilsen of the Environmental Protection Association was in the garage to prepare it. Gimre, who was supposed to help, drove a telescopic loader with a basket between the container and the stone fence. It was quite windy so that the sounds did not carry very far. Suddenly Nilsen heard a loud roar and shouting outside. When he came out of the garage, Gimre came across the square, as far as he could go and shouted "Olav has attacked me". What the hell had happened?
"I ran forward and saw Olav Stangeland's car leaving the courtyard and ran back to my car to get the camera and got pictures of the car as it drove out and into Stangeland's courtyard".

"Then I went over to Gimre, who was lying stretched out on the lawn with his clothes in tatters and barely able to speak. He was completely in shock and had clearly been hit hard."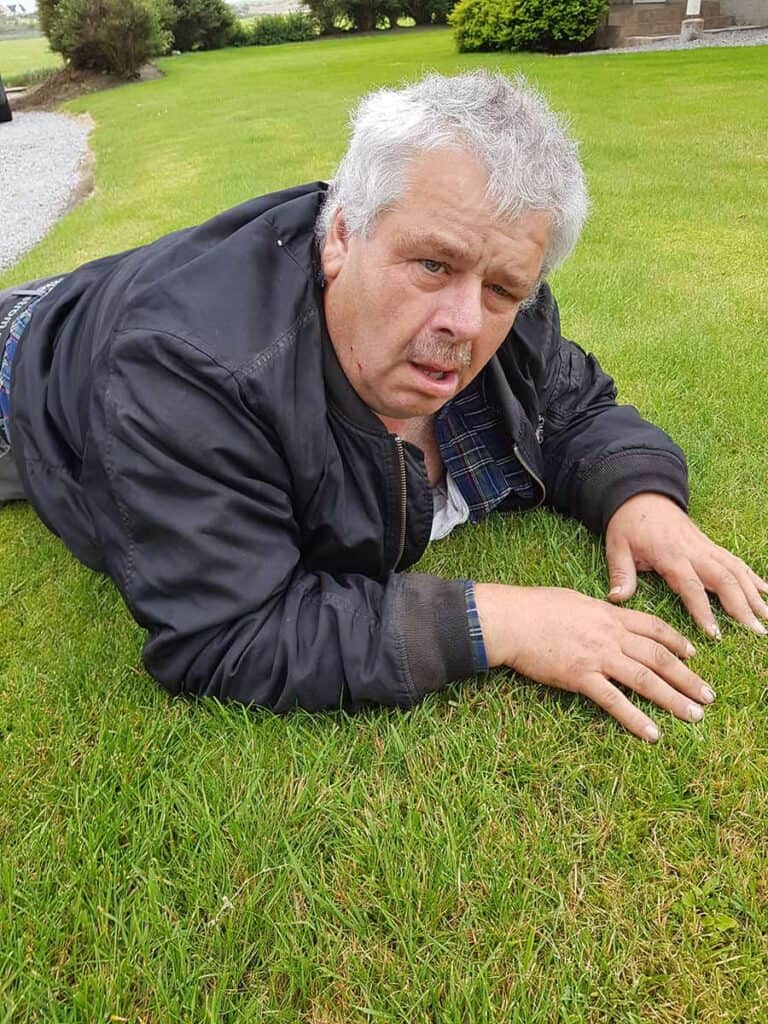 It was Nilsen who called the police and it took a few minutes before Gimre was able to explain what had happened. The clothes were torn with great force. He had a jacket on and the flannel shirt he was wearing underneath was completely torn in the front. In fact, such great force had been used that it had torn down the entire back, while it was covered by a jacket. Gimre had marks both on his face and on his arm and also had blood in his mouth at the very beginning. He had also developed a swelling on the side of his head. Later it also became clear that he had broken his thumb.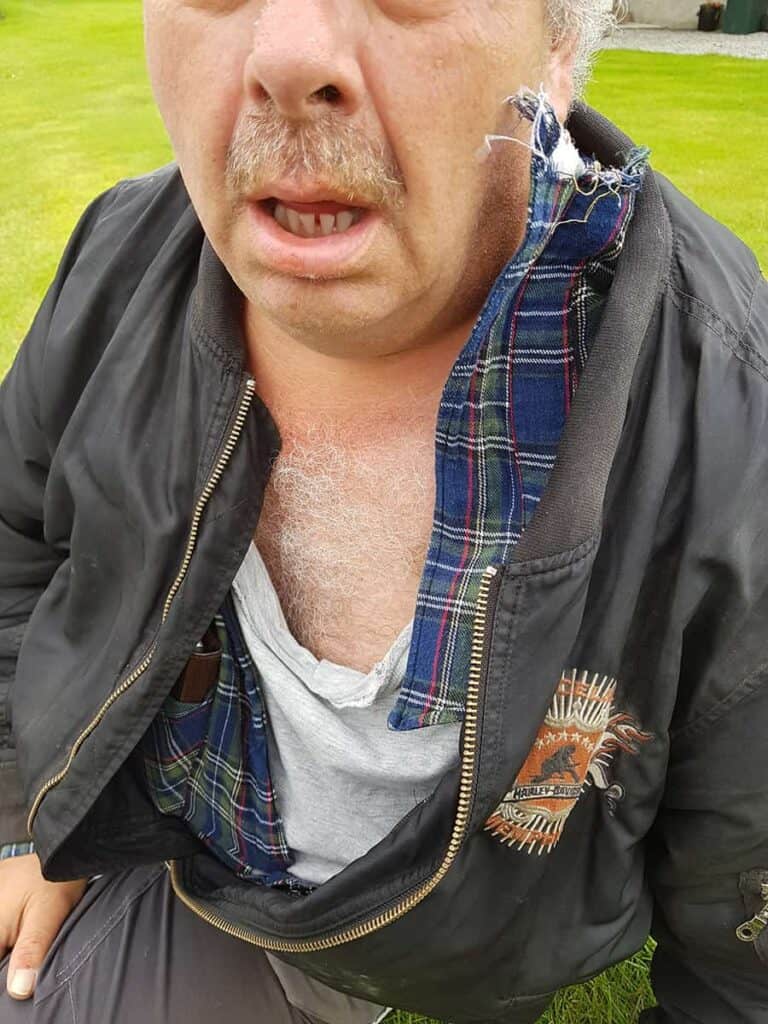 Gimre tells in his own words what happened that day (same video as at the top of the case):
The police arrive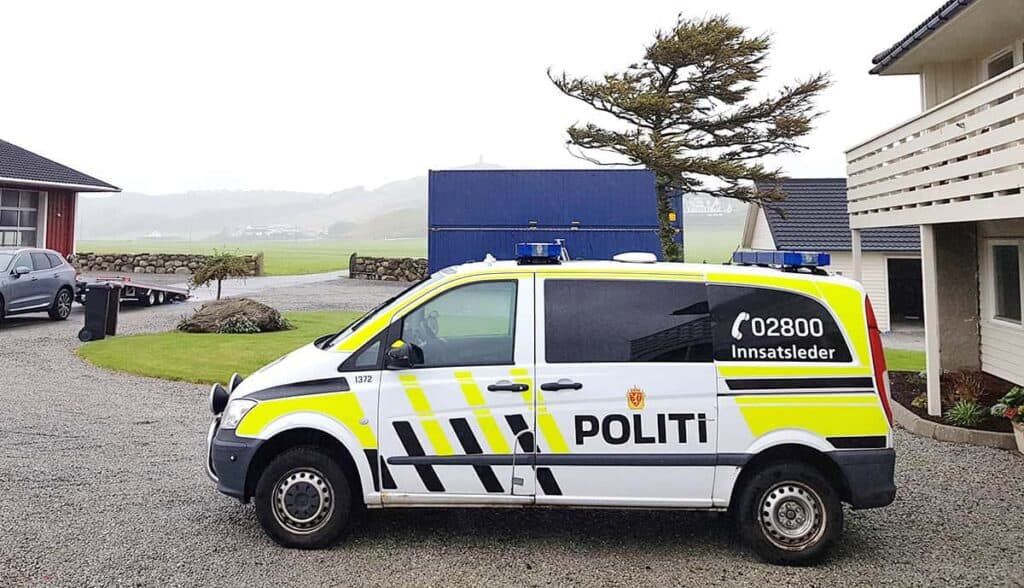 The police arrive, take a statement and review the sequence of events.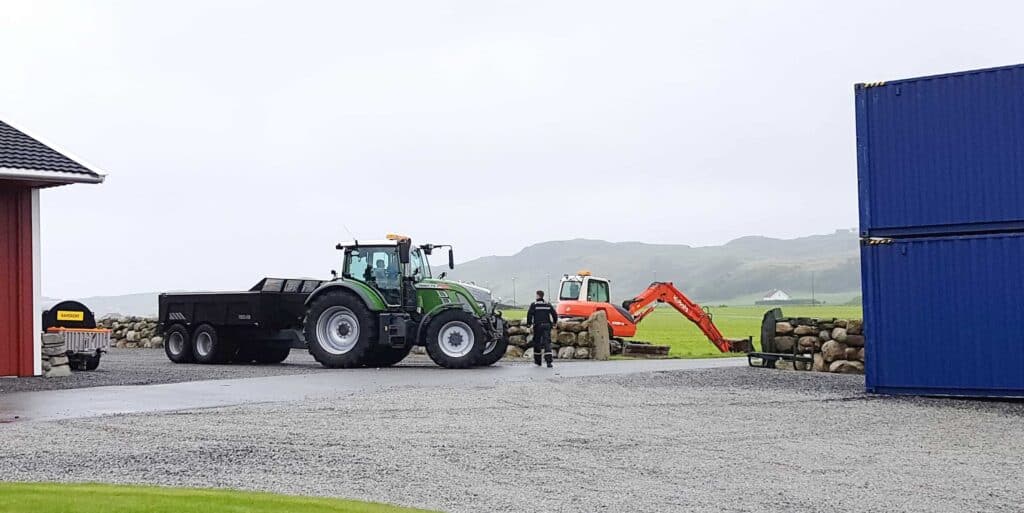 After attacking and knocking down Gimre, Olav Stangeland returns to set down an excavator next to the containers, and to excess, while the police are present..(!)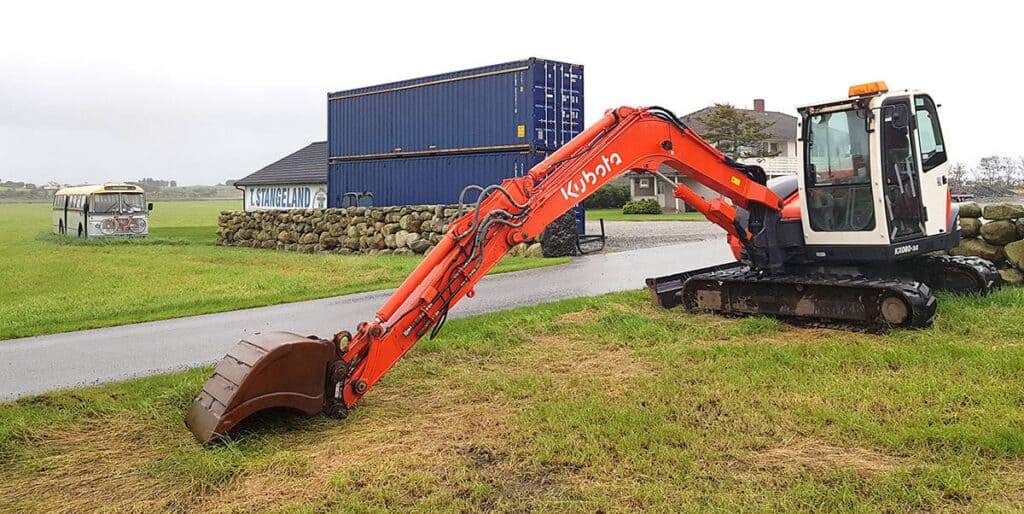 Olav Stangeland admits the assault

Olav Stangeland admits the assault to Bygdebladet Ålesund.
- The police can decide what constitutes violence, says Olav Stangeland (65). On Wednesday, things boiled over for him when he pulled his neighbor Arvid Gimre out of the truck he was sitting in at Jæren.

- I pulled him out of the telecop truck. Then there were shortages and such. It will be up to the police to define whether this is violence or not.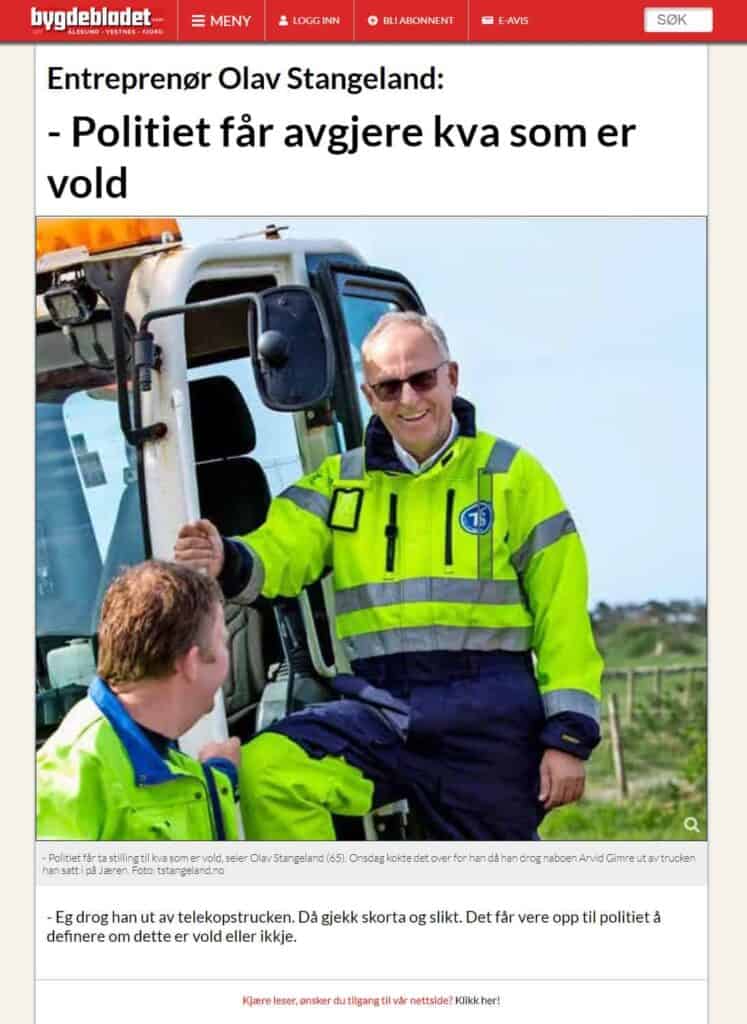 Bygdebladet Ålesund: Contractor Olav Stangeland - The police can decide what constitutes violence
The media gets the case
Later in the day, we sat in the studio at Klepp on the podcast Jærbu for an hour and a half interview about the case and about wind power in general.
Olav Stangeland comes the next day with a short reply.
Other media that have written about the case:
Why is NMF campaigning against Stangeland Maskin?
This is a question that comes up regularly in comment fields online. To answer this, there are several conditions. The wind power battle has intensified over the past couple of years. Much of this is due to the fact that almost 100 licenses have been granted across the country, and where right now there is a level of development the likes of which we have never seen in Norway's history. Much of this is old concessions with insufficient and incorrect investigation grounds. Because of the so-called green certificates, all the developers are in a huge hurry to start development in order to get the plants in operation by 2021. Those who manage to do this will be paid large subsidies right up to 2035. If the plant is not in operation by 2021, the support will cease. This has created enormous pressure across the country as the authorities work hand in hand with the developers and local community after local community is overrun and complaints and input from residents and organizations are not heard.
In this context, Stangeland, as one of the country's largest machine contractors, is one of the most active on the developer side. The case on Haramsøya is plagued both by gross procedural errors and by very flawed and erroneous decisions. An entire local community is razed and destroyed forward in time. The citizens have this trampled over their heads, and have their local areas destroyed and giant wind turbines right outside their living room windows and directly above their homes. In this climate, the local population stands alone against what appears to them to be pure abuse, and the authorities' only response is to send larger police forces against the local population. A fairly hopeless battle in a case with major and gross procedural errors and hundreds of tragic fates. We cannot sit by and watch this continue without someone being held accountable for the consequences they knowingly and willfully inflict on an entire local community by force.
On Haramsøya, Stangeland is a very central actor who knowingly and willingly carries out this abuse with major consequences for an entire local community, and for what? Money. A lot of money in their own pockets, while the individual residents lose their freedom, silence and nature for what remains a huge and dominant industrial plant that covers most of the island. The money Stangeland earns the residents lose in destroyed property values. A fall in value of 40% on housing and property is not unusual, and it will be difficult to sell the property if they want to move. This must be the biggest robbery of the population in recent times. Stangeland's operations have large and far-reaching consequences for an entire local community.
At the same time, it is quite alarming that the owner and executive director of Stangeland Maskin AS, who is complicit in destroying an entire local community and the outlook of all the residents, cannot bear to see a banner outside his own living room window holding the company he owns and manages accountable. He and the company clearly have no inhibitions in relation to the assignments he seeks and carries out, but must resort to vandalism and violence in order not to have to see accountability outside his own living room window.
Is Stangeland Maskin just an innocent subcontractor?
It's easy to think of a subcontractor as an innocent company that just follows orders, but is this true for a company like Stangeland? After all, they are one of Norway's largest machine contractors, and choose for themselves which assignments they want to take on and carry out. No one is forcing them to take the most controversial and conflict-filled jobs. They choose it themselves. They use good jobs actively in the marketing of their own company and build their reputation on it. When they take such bad and conflict-filled assignments, they also have to take what comes with them in terms of reputation.
Stangeland is referred to by many in the comment fields as "just" a subcontractor. Here it is good to draw a parallel to Bremangerlandet in Western Norway. Here, SFE is the developer, and Stangeland is therefore the subcontractor who will build out, if they receive an approved dispensation from the LNF area by Bremanger municipality.
Firdaposten was recently able to say that Stangeland Maskin had sent a letter to Bremanger municipality where they pressured the municipality and demanded speed in the proceedings so that they could start the construction work, with the corona situation and so on.
The major player Stangeland Maskin AS has now contacted Bremanger municipality and is using, among other things, the corona situation as an argument to start the development as soon as possible.
Stangeland Maskin AS sent a letter to Bremanger municipality on 19 June, in which they list several arguments that the municipality should accelerate work on the Bremangerlandet wind farm.
Verksemda, which has so far been a service provider for 10-12 other wind power projects in this country, is sitting on signed commission contracts linked to the plans for a new wind power plant in Bremangerlandet - a project that is highly controversial, also locally, and which has been a political hot potato for a long time no.
Corona and local ownership. Now Stangeland wants to make progress. In their letter to the municipality, they point to several good reasons why the project should get the thumbs up. The corona situation, and the fact that we now need activity in the construction industry, is one of them. But they also point to the fact that the Bremangerlandet project is locally owned, and that it strengthens local business and value creation. "There are no foreign investors who have otherwise received much criticism regarding wind power", writes project manager Tore Voster at Stangeland Maskin in the letter which the municipality has logged in its mailing lists.
Firdaposten: Contractor pushes for wind power in Bremangerlandet (subscription article).
And here Stangeland Maskin shows that they are not just a small, insignificant subcontractor, but also a very central political actor in the wind power developments. Stangeland shows power, and Stangeland uses power.
Does NMF only go after Stangeland?
To this question, we can answer a clear NO. We don't just go after one company. Over the years, a number of large and powerful companies have felt NMF's tireless fight against environmental sinners and environmental villains. There are also no other organizations that have given the same amount of money into the treasury in the form of fines following reviews as the Norwegian Environmental Protection Association. We don't care if the company is big and powerful. If they commit illegal acts or act unethically or threaten natural diversity, the environment and public health, they must also count on having to face the NMF.
We are now in a situation where we are actively involved and assisting on Haramsøya, so it is natural to also take this fight on the largest and most visible company on the developer's own home turf. This is something that will be done more of also in other places in the country and against other companies. No one should feel safe from a dent in their reputation when we shed light on the abuses and environmental crimes that are carried out. At the same time, we never, or only exceptionally, tell in advance what we are going to do, or which company or authority we are campaigning against.
When we were already so strongly involved in Haramsøya and the opportunity opened up to make the contractor responsible on their own home turf, it was a perfect fit, but regardless of how we formulate a message, we do not expect to be met with violence where our members and supporters are beaten up and dejected. This case took an ugly turn when Olav Stangeland chose to drive down to beat up the neighbor in order to rent out wall space for the Environmental Protection Association's banners. This is both gross and totally unacceptable, and at the same time also a matter that we will actively follow up further.
This is now a police matter under investigation and we expect the police to take this at least as seriously as they have up to now for the wind power developers elsewhere in the country. They clearly lack no resources when they can deploy large police forces on a daily basis to control the local population.
Summary
So the answers to this are that Stangeland is a large and politically active actor in wind power matters, and not just a small subcontractor. They choose for themselves which missions they take or not take, and they themselves are responsible for their choices and what follows from choices that are both controversial and conflict-filled.
The Norwegian Environmental Protection Association has worked actively against wind power for more than 15 years and will not give in until all wind power development is stopped. We do not only work against a single actor, but also work against other actors, government bodies and politicians.
We work in many ways and with many methods and we do not tell in advance what we are going to do. That's how we've done it, and that's how we'll do it in the future as well.
If you commit environmental crimes, commit illegal acts or behave unethically or threaten natural diversity, the environment or public health, you must also count on having to report to the Norwegian Environmental Protection Association.
Dear Zephyr, pack your bags and disappear…
...and dear Zephyr with the owner companies Glitre Energi, Vardar, Østfold Energi, Viken county municipality, Drammen municipality and all you other owner municipalities of Zephyr. It's time to pack your bags and get out of Haramsøya and all the other places you're hunting for a lump sum of money. You are not wanted. When Østland municipalities and Viken county council wreak havoc in completely different parts of the country than where you yourself live in order to exploit the local population there for natural resources, it is a form of colonial activity, municipal colonial activity. You are now acting like the brutal colonial masters who have no respect for the local population and who are advancing on other people's land in a fit of short-term selfish greed.
With subcontractors such as Stangeland Maskin, we can only wish you luck with your reputation. Be sure that all owner municipalities and mayors are held responsible for this. Just pack your suitcase and disappear as soon as possible. You are neither wanted nor welcome...!!!
...and the same goes for SFE, Falch Renewables, Stadtwerke München, Eolus, Trønderenergi, NTE, St1, Grenselandet and all you other wind power profiteers.
ENOUGH IS ENOUGH. Pack your bags NOW. Wind power is not wanted in this country. Here, we would rather keep nature, the landscape, natural diversity, local communities and harmony. THIS ENDS NOW!!!