The Norwegian Environmental Protection Association is represented in a 28 min. documentary film, where approx. 7 minutes is about the German submarine lying outside Fedje with 65 tons of mercury.
The film shows some clips from ROV dives on the submarine from 10 April 2019. It turns out that the hull is smooth and fine, and somewhat fouled. Even entire sections of the wooden deck are still intact. The submarine has hardly rusted since 1945, and is solid enough for a lift. The people of Fedje want U-864 to be raised, and for the mercury to be removed from the seabed.
The TV program ( Watch the film here. ) also shows clips from the Norwegian Coastal Administration's animation about the support fill, and the hull parts are depicted as very dented and apparently in poor condition. The animation is directly misleading, says Anders Løberg, case manager for U-864 in the Swedish Environmental Protection Agency.
U-534, which was taken up in 1993, and has lain in far more oxygen-rich water, has almost not been corroded since 1945, and the hull is like new after the fouling was removed. This is also the case on U-864. The hull is about as strong as when it was new. Norway has the world's best offshore underwater expertise, and it is a simple matter to raise the two hull sections, which weigh no more than 1,000 tonnes each.
We can go for the most advanced method, option 4a which was described in Metier's KS Report, which includes raising the hull parts, dredging/sludge suction with raising of loose mercury bottles, in addition to depositing highly contaminated seabed (hotspots with mercury) on land .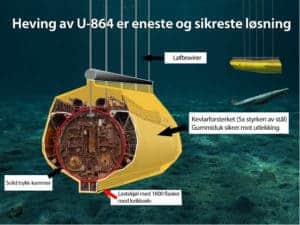 NIVA, Kystverket, NRK and DNV-GL (Det Norske Veritas) have also used a calculation error which indicates that it will take 3,400 years for the mercury to migrate out of a 1 meter layer of sand. This error was admitted in 2006, but this figure is still used as an argument that covering is safe against mercury leakage.
The Swedish Environmental Protection Agency will follow up on this case, where the Coastal Administration has misled the Storting, the Government and the Norwegian people.